Root Canals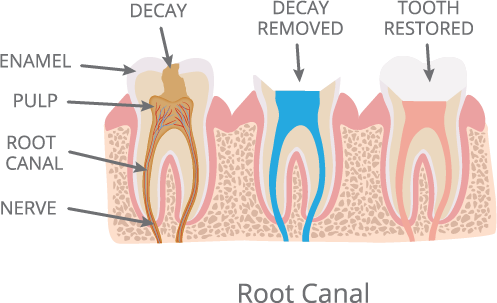 A root canal is an endodontic procedure. The literal translation of endodontic is "inside tooth", and endodontists specialize in procedures involving the "pulp" within your teeth. At Arizona Associates in Dentistry, we can perform root canals without referring you to another practice. We're happy to provide continuity of care and comfort, even with treatments that aren't typically known for their ease.
Root canals are necessary when a tooth's nerve and/or pulp have become inflamed or infected because of decay, cracks, chips, or trauma to the tooth. Symptoms of infection and inflammation include pain, sensitivity to hot and cold, and swelling. You don't want to wait too long before coming in to see Dr. Taylor or Dr. Mclaws, because an abscess may form and pose serious risks to your health.
After anesthetizing the area affected, your dentist will create a small opening to remove the infection. When the area is all clear, we'll fill the opened roots to prevent further infection. If extensive damage has been done to your tooth's natural crown, a porcelain crown may be the final step of your root canal procedure.
You might dread hearing that a root canal is necessary to get you back on the road to optimal oral health, but over 14 million root canals are performed each year, and most patients report that the discomfort is equal to that of having a cavity filled. That certainly pales in comparison to the infection left untreated.